Best Overall
Highest Rated
CircoTherm Feature
EcoClean Feature
Energy Saving
Pyrolytic Cleaning
Wireless Connection
Highly Functional
Best Features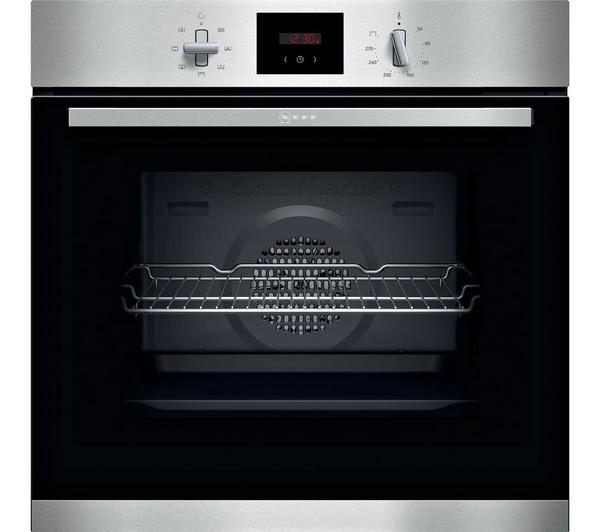 Fast Pre-Heating
Grease-Proof Enamel Coating
Control Panel Lock
Slide-away door ovens are stylish and aesthetic. Many Brits now prefer to install an electric oven with slide-away doors while fitting a new kitchen.
But what exactly is meant by an oven with hide and slide doors? Why is there a lot of buzz for them? Are they any better than regular ovens?
Well, keeping that all in mind, our technical team has done complete research. So, worry not! Because we will be guiding you through everything that you need to know about slide and hide ovens. 
What is meant by slide and hide ovens?
The door of such ovens completely hides under the oven cavity. You don't have to hold the oven door while putting or taking out your favourite dish with an oven with slide-away doors. 
This smooth experience ensures a delightful experience for chefs. Apart from the oven glass door, the rest of the exterior is like regular freestanding ovens. 
Who makes a slide and hide ovens?
NEFF developed the slide and hide technology. NEFF is quite a renowned and trusted brand across the UK. Currently, NEFF is the only brand that stands out from other Kitchen appliance manufacturers. 
Based on several reviews, It is safe to conclude that Bosch is also building the slide and hide ovens. So, maybe in the near future, we'll be enjoying Bosch electric ovens with sliding doors. 
Is it worth getting a slide-and-hide oven?
Yes, slide and hide ovens are worth every single penny. Professional bakery chefs prefer them as it is easy to cook delicious meals when the door rolls under the cavity.
Remember, you may need to adjust kitchen cabinet doors while installing a hide-and-slide oven. That's why many users hesitate to buy them.

If you already have any type of oven, then spending your hard-earned money for only a slide and hide door is not worth it. 
As you would be using it for a maximum of one hour. So, why bear all the trouble for the convenience of a short time? So, in a nutshell, It depends on you and your preferences.
Best Oven With Slide And Hide Away Doors 
NEFF dominates the market of freestanding ovens with slide and hideaway doors. So, our professional chefs of Kitchen Magician test out four products to get better insights.
Indeed these ovens are highly functional and ensure high heating swiftly. Read what our experts have to say. So, you can get the best deal out for your money.
Comparing Best Ovens having Slide Away Doors
1. NEFF N90 B57CS24H0B – Best Overall
If you're looking for maximum convenience with a bundle of exceptional features and functions, the NEFF N90 is the best in this regard. 
It has been equipped with multifunctional technology, and the shift control is extremely easy to use as you can quickly and efficiently find the right setting according to your food's requirements.
The CircoTherm intensive will make sure that the temperature remains consistent. The doors have a quadruple-glazed window that traps the moisture and heat inside for more efficient and even cooking results. 
Due to its pyrolytic self-cleaning function, you don't have to worry about cleaning oven glass with vinegar.  This feature uses high temperatures to transform the grease or fat into ash, which you can easily wipe.
Power consumption: 0.9 Kwh | Weight: 36 kg | Oven Capacity: 71 Litres | Warranty: 2-year manufacturer warranty
Reasons to Buy
The quadruple glazed window doesn't let even a bit of heat escape.
The Pyrolytic self-cleaning functions make cleaning effortless. 
It comes with additional Hot air grilling and plate warming features.
Weakness
The Wi-Fi feature isn't easily controllable with smartphones.
2. NEFF N70 B47CR32N0B – Best Energy Saving
Want to experience the convenience of eye-level installation? Then, NEFF N70 is the ideal option for you. 
With its stainless steel construction and A+ Energy Efficiency rating, it will cost around 20% less compared to regular 50cm freestanding electric ovens with a cooker. 
It uses water to soften any burnt residue of the food, so you'll only need to wipe it with a cloth to make it spotless in no time. With the Circotherm feature, you'll get to experience superior cooking results every single time. 
This model also offers a handy programmable timer to program your cooking for a later time. You just have to pre-set the time, and you're good to go!
Power consumption: Hob: 1 to 2.9 kWh and Main Cavity: 1.39 kWh | Weight: 36.42 kg | Oven Capacity: 71 Litres | Warranty: 1-year manufacturer warranty
Reasons to Buy
The TFT display has high contrast and bright colours to appear bright and clear.
The BaseClean feature utilizes water to soften any burnt food so that you can easily wipe it.
With the A+ energy efficiency rating, your electricity bills will be reduced.
Weakness
The installation process can be difficult for most individuals.
3. NEFF N30 B3CCC0AN0B  – Most Versatile
Consider the NEFF N30 Slide & Hide If you're searching for a high-quality electric oven with unique features. 
With a 71-litre capacity and enamel coating, you would be cooking multiple dishes at once for the family gala.
The LCD allows you to see all of your settings at a glance. There will be temperature, cooking functions, and timer visible on this display, so you won't have any hard time monitoring your food's progression.
Alike the rest of Neff products, it is also equipped with the CircoTherm technology to make sure you have to pay fewer energy bills.
Power consumption: 1.04 Kwh | Weight: 33.6 kg | Oven Capacity: 71 Litres | Warranty: 2-year manufacturer warranty
Reasons to Buy
You can lock the control panel for your kids' safety.
The door has a triple-glazed window for no heat wastage.
Hot Air Grilling lets you sear meat perfectly.
Weakness
The grill pan doesn't come with a handle.
Wrapping It Up!
No doubt that ovens with slide-away doors are chic and easy to use. But, on the contrary, they are expensive and need maintenance.

Neff is the only brand right now that manufactures ovens with slide and hide doors. N90 is loved by professionals due to its wide capacity and several smart features.

Another standout feature is CircoTherm technology, which won't let any heat escape. So, let us assure you that you'll be having a delightful experience with ovens that have slide and hide doors.